Latisse®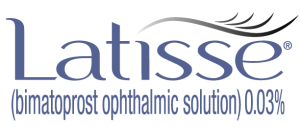 There are surgical procedures, such as blepharoplasty and brow lift, that can help to open up and brighten the eye area, but our office also offers an additional non-surgical treatment that can aid in enhancing the area around the eyes. Latisse® is the first and only FDA-approved prescription treatment for hypotrichosis–the condition of having inadequate or not enough lashes. Latisse® is designed to grow eyelashes and make them longer, thicker, and darker.
This prescription treatment can help patients who wish to have the look of false eyelashes without the hassle of applying them daily. Within a few short weeks, patients start to see improvement in the lash area. With longer, darker, and fuller lashes, many patients find that they begin to use less eye makeup daily and have enhanced confidence.
Latisse® is used by many patients, including those that have lost their lashes due to necessary medical treatments or medications. Once a medical treatment is complete (such as chemotherapy), and once clearance is given, many of our local patients find that Latisse® helps them to quickly grow the beautiful lashes that they lost.
Available only through a doctor, Latisse® is a once-daily prescription treatment applied to the base of the upper eyelashes with a sterile, single-use-per-eye applicator. Users can expect to see longer, thicker, and darker lashes in as little as 8 weeks with full results in approximately 16 weeks.
Latisse®Results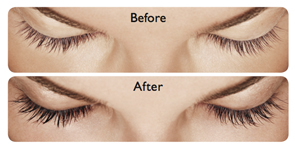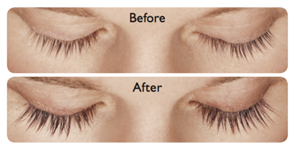 Please contact our office with any questions regarding Latisse®.