Other Types of Body Surgery
In addition to gynecomastia, some of the most common body concerns reported among men involve prominent abdomens, excess skin after massive weight loss or post-bariatric surgery, and excess areas of fat.
Dr. Ramin Behmand offers an array of body contouring procedures that address these perceived issues. During your consultation, Dr. Behmand will review your history and help you determine the best treatment to address your concerns. Some of the body procedures that are commonly performed for our male patients include:
The first step involved in your male body surgery is to schedule your initial consultation. Your consultation will include an in-depth conversation regarding your medical history, a physical exam, and discussion of the procedure options available to you. After you and Dr. Behmand determine a treatment plan that addresses your concerns, you will be presented with a procedure quote from his patient care coordinator.
Scheduling Your Male Body Surgery
Once you are ready to move forward and schedule your procedure, you will start by choosing a surgery date and paying a deposit to secure that date. A pre-operative appointment will also be scheduled to address all of your questions and review pre- and post-operative instructions for your procedure. You will be provided requisition forms to obtain the necessary blood work, and any other indicated studies, before the surgery. The goal of any pre-operative study is to ensure that your elective surgery is performed as safely as possible. You will also have the opportunity to read through an in-depth informed consent form discussing your procedure, and you may ask any questions that you may have.
Recovery From Your Male Body Surgery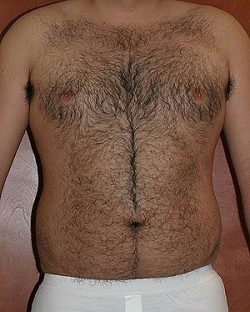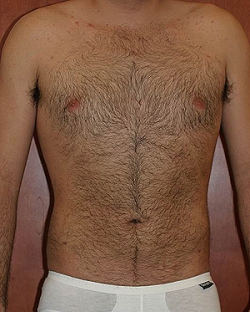 Before
After
View More
Recovery time from your body surgery varies depending on the procedure you choose to have. For most procedures, you will be asked to take approximately 1-2 weeks off of work and will be asked to restrict exercise activity for about 4-6. Detailed procedure-specific instructions will be given to you at the time of your pre-operative visit.
If you are interested in learning more about our procedure options and pricing, we encourage you to contact our office today. We are available to help you in scheduling and guiding you through this exciting process.