Breast Augmentation
Breast augmentation, or the placement of breast implants, is a surgical procedure designed to enhance the volume and shape of the breasts. For most of our patients, the ultimate goal of breast augmentation is to increase the size of the breasts while maintaining a desirable form, firmness, and natural appearance.
Good Candidates for Breast Implants
If you are considering breast implants, you may have a very different reason than someone else for desiring surgery. Many women who come into our office seeking breast implants are eager to know if they are good candidates for breast augmentation surgery. Dr. Ramin Behmand has provided the following preliminary checklist with the understanding that it is impossible to know whether you are a good candidate without undergoing a medical review.
You may be a good candidate for breast augmentation if you:
Have been dissatisfied with the size of your breasts for several years and would like to enlarge them.
Would like to balance out breasts that are different sizes.
Have lost breast volume as a result of aging, weight loss, or pregnancy.
Have a hard time finding flattering clothing because your breasts are a disproportionate size to the rest of your body.
Have had a previous breast augmentation and would now like to have a smaller or larger size than what was originally placed.
Age is an important consideration as well. Dr. Behmand understands that many young women may be dissatisfied with their current breast size. However, they should wait until their breasts have fully developed before undergoing breast augmentation surgery.
FAQ's
Please find answers to frequently asked questions about breast augmentation below. If you would like more information, or if you would like to schedule a consultation with our plastic surgeon, Dr. Ramin Behmand, please contact us today.
Are breast implants safe?

In the past, silicone-filled breast implants were often in the news due to concerns of leaks of the liquid silicone once placed in the body. Today, the formulation of the silicone within breast implants has changed to a cohesive gel formulation that holds together uniformly, while still creating a breast that looks and feels natural. These breast implants are FDA approved and regulated.An alternative type of implant is saline implants. These implants are filled with a saline solution (salt water), which already exists in the body. It poses no known health concerns if an implant leak should occur.

What is the difference between saline and silicone implants?

Silicone breast implants are FDA-approved and contain a sterile cohesive gel formulation that holds together uniformly, typically creating results that look and feel more natural.Saline breast implants are also FDA-approved and are filled with a sterile salt-water solution (a naturally-occurring substance in your body). Saline implants are typically firmer than silicone implants, but because they are filled with a naturally-existing body fluid, some patients prefer saline implants.

What risks are involved in having a breast augmentation procedure?

As with any surgical procedure, there are always certain risks involved. During your initial consultation, Dr. Behmand will review your medical history with you and will discuss any risks involved that are specific to your health history.

How old do I need to be to have breast augmentation?

Dr. Behmand performs cosmetic saline implant breast augmentation starting at 18 years of age. FDA guidelines on silicone implants stipulate that patients undergoing placement of silicone breast implants for cosmetic reasons be at least 22 years of age.

Can I still have breast augmentation if I don't have children but want to have children in the future?

You can absolutely have a breast augmentation if you still plan on having children in the future. Breast implants neither prevent you from having children nor is there any known evidence that they can be harmful to a pregnancy. It is important to be aware that, just as your natural breasts will typically begin to drop with age due to softening tissues, gravity, weight loss and gain, and breast feeding, your breast implants could potentially begin to drop over time due to the same reasons. Eventually, you will likely need to re-do your augmentation surgery. This typically won't need to happen for many years, and the precise amount of time is dependent on the factors mentioned above.

How much does a breast augmentation procedure cost?

Each individual may need a different set of procedures to accomplish their overall goals. Therefore, the mentioned costs here are only an estimate and may change based on the findings during your physical examination. The cost of saline augmentation is typically around $7,000 and silicone augmentation surgery starts at $8,000. If any other procedures are necessary (for example; a breast lift or contouring with liposuction), and depending on what type of silicone implant is recommended, then these fees will increase accordingly.

Can I pay for my surgery in installments?

The full cost of the surgery is due prior to the procedure date. We do work with two companies who provide financing for medical and cosmetic procedures. The companies we have chosen to work with have a long track record in the field and are endorsed by the American Society of Plastic Surgeons. This information can be found in "Patient Information" under the "Our Practice " tab.

Is there anything I should avoid leading up to surgery?

We will provide you with an extensive list of medications to avoid starting at 10 days prior to surgery. The most common things that most patients should plan to avoid are NSAIDS (non-steroidal anti-inflammatory medications) such as Aspirin, Advil, Motrin, Aleve and similar medications, all vitamins, diet medications, alcoholic drinks (including wine and beer), and smoking tobacco products.

Is the breast augmentation procedure painful?

You should expect to experience some discomfort, though the degree of which is highly individual. Dr. Behmand uses a long-acting local anesthetic in the surgical area which can significantly decrease pain right after surgery. Pain medication will also be prescribed, which will generally alleviate most post-surgical pain in the first week of recovery. Typically, you will take pain medication for 3-4 days. Some patients stop taking pain pills a little sooner and others a few days later as needed to be comfortable.

How long is the typical recovery for a breast augmentation?

In most cases, you will only need to take 1 week off of daily routines and work. However, you will be required to maintain minimal physical activity for 4 weeks following surgery. This means you will not be able to work out, go to the gym, or do any heavy lifting during that time.
The Breast Augmentation Procedure
Breast augmentation is performed under general anesthesia at a private surgery center in Walnut Creek. Depending on the type and size of breast implants you have chosen, Dr. Behmand may choose to make the incision in one of three locations:
Within the crease underneath the breast
Around the edge of the areola
Just inside the armpit
This decision will be made with you, before the surgery, during your consultation with Dr. Behmand. After making the incision, Dr. Behmand will insert the breast implants either above or beneath the pectoral muscle. Again, you will be able to make this decision with Dr. Behmand based on your body type and activity level.
After the Breast Augmentation Procedure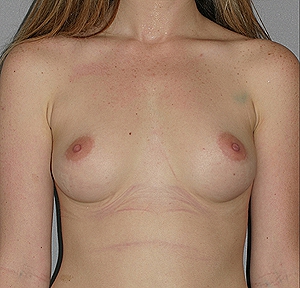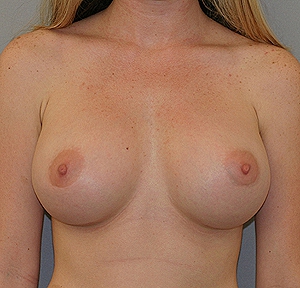 BeforeAfter
View More
When the breast augmentation is complete, you will be fitted for a surgical support bra. The discomfort you feel for the first few days after surgery can often be controlled with prescription medication. Immediately after surgery, you will be asked to recover for at least one week in the comfort of your home. During this time, it is important that you rest and minimize your arm movements as much as possible. You will be given post-operative instructions prior to surgery, and it is crucial that you follow these instructions.
Most patients can return to normal, non-strenuous daily activities after one week. For more strenuous activities, such as exercise, it is important to wait at least 4 weeks or until given clearance by Dr. Behmand.
During these first few weeks, moderate swelling is common. As your healing progresses and your swelling goes down, your new silhouette will emerge, and you will be ready to enjoy your breast implants!
"Thank you for the excellent service you provided me. I am very happy with the surgery. Your staff was friendly and I really appreciated them."
If you would like to learn more about breast augmentation with implants, please contact our office today to schedule a consultation.
Cost
Surgical fees can vary based on length of time in surgery, types of breast implants used, etc. The normal range for breast augmentation surgery is between $7,000 -$9,500 and can be higher if a breast lift is recommended at the same time.