Tummy Tuck (Abdominoplasty)
For most people, even those who exercise regularly and limit the intake of fats and sugars, the abdomen is a difficult area to keep toned and flat. This can become an even more challenging problem after pregnancies and the experience of weight gain and loss associated with each baby. A tummy tuck, also known as abdominoplasty, is a type of plastic surgery that serves to tighten up the abdominal muscles and remove excess skin and fatty tissue.
Good Candidates for a Tummy Tuck
Dr. Ramin Behmand performs a "drain-less" tummy tuck on patients who are otherwise healthy and are found to be good candidates for the procedure. A tummy tuck may be right for you if you have:
Loose or weak stomach muscles due to aging or pregnancy
Sagging or excess skin in the abdominal area
Fat in the lower abdomen that is unresponsive to exercise
Experienced dramatic weight loss or previously had bariatric surgery
In women, the tummy tuck operation is best performed after pregnancies are completed and the body weight is in a relatively stable range. Depending on overall body size, it is acceptable to have mild weight fluctuations within a narrow range of about 5-15 pounds. Having a tummy tuck will not prevent future pregnancies; however, having a pregnancy after a tummy tuck may require a surgical revision of the previous tightening. During your consultation and examination with Dr. Behmand, he will assess the patient's overall health, skin tone, and distribution of fatty tissue within the abdominal area and examine the abdomen for scars from previous abdominal surgeries if necessary.
FAQ's
Does insurance cover an abdominoplasty for any reason?

Insurance does not typically cover an abdominoplasty. This procedure is considered elective, and therefore insurance will not cover it. If a hernia repair is involved, in some circumstances the hernia repair itself can be covered by insurance, which will commonly cover a small portion of the surgery center and anesthesia fees as well.

Can an abdominoplasty be combined with other procedures?

Yes. Patients frequently will combine an abdominoplasty with a breast surgery or liposuction and sometimes even facial procedures. When you come in for your initial consultation, please inform Dr. Behmand of any other considerations or surgical procedures you would like to discuss.

What is the difference between a mini abdominoplasty and a full abdominoplasty?

A full abdominoplasty is a surgical procedure designed to remove excess skin and fatty tissue from the mid and lower abdomen and to tighten muscles of the abdominal wall. A full abdominoplasty might be a good option for you if you have loose or weak stomach muscles due to aging or pregnancy and sagging or excess skin above and below the belly button or throughout the abdomen that is unresponsive to exercise.

The mini abdominoplasty is a surgical procedure to remove excess skin and fatty tissue from the lower abdomen only. It does not address any skin laxity above the navel, but it has the advantage of not having a scar around the navel. A mini abdominoplasty might be a good option if you only have a moderate amount of loose skin and fatty tissue below the navel.

Can this be done under local anesthesia?

No. This procedure will be done under general anesthesia in a surgical center.

Do you use drains for an abdominoplasty?

No. Dr. Behmand has a technique that typically allows you to have a more comfortable "drain-less" recovery. Dr. Behmand can discuss this with you in more detail during your consultation.

Can I have an abdominoplasty if I plan to have children in the future?

You can have an abdominoplasty if you still plan to have children in the future. This will not affect your ability to get pregnant; however, you might need a revision surgery once you are done having children, as the pregnancy will stretch the abdominal muscles apart again and possibly create skin laxity.

Where is the incision?

The incision will likely go from hip bone to hip bone on the lower part of your abdomen (just near your pubic hair line). This incision is typically low enough to be concealed by a bikini bottom or underwear.
The Tummy Tuck Procedure
The goal of the abdominoplasty (tummy tuck) operation is to not only bring a toned and tightened appearance to the abdominal area, but also to position the scars associated with the procedure in the most aesthetically-appealing shape and position possible. Ideally, the incision will be placed low and centrally, just above the hair-bearing pubic area. The incision raises slightly as it goes toward the hips but still maintains a relatively low position. The length of the incision will typically depend on the amount of excess skin to be removed. The tummy tuck incisions for both men and women can often be hidden within the area normally covered by a swimsuit or under garments. In most cases, the incision will be red and noticeable for several months to a year after the surgery. The incisions start to fade into a thin, often inconspicuous line about one year after the surgery for most patients.
During the procedure, Dr. Behmand will tighten abdominal muscles that may have loosened as a result of pregnancy or weight gain. Once in the ideal position and with the desired tightness, the muscles and surrounding connective tissue are secured and supported with sutures, which typically allow the tissues to heal in the newly tightened and improved position. The internal sutures are usually self-dissolving and will disappear when they are no longer needed for the healing process. When the muscles are appropriately taut, Dr. Behmand then removes all excess skin from the abdomen. The completed tummy tuck is designed to give you a firmer, more toned-looking abdomen. The waistline can often be further defined and trimmed by use of liposuction to contour and help blend the shape of the abdomen with that of the sides and hips, helping to create a three-dimensionally attractive midsection.
Dr. Behmand uses an innovative technique of progressive tension sutures to perform the abdominoplasty without drains. A drain-less tummy tuck has several advantages: the ability to shower within a few days after surgery, increased post-surgery comfort, elimination of the scars associated with drains, and stabilization of the tummy tuck incision in the desired low location. The technique, which uses a "quilting-like" suture method, is designed to close all open space where fluid could collect. Self-dissolving sutures are used; they disappear when healing has occurred and are no longer needed. The drain-less abdominoplasty is the height of innovation in plastic surgery for improved postoperative comfort and superior aesthetic results.
Recovery After a Tummy Tuck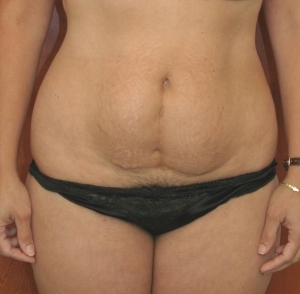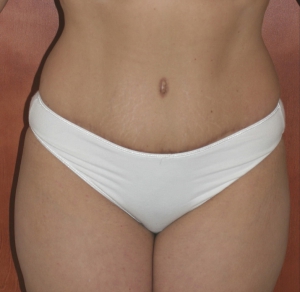 BeforeAfter
View More
Most patients find that their abdominal muscles feel very tight after a tummy tuck procedure. It is important that individuals make an effort to get out of bed and walk around in the days after surgery; doing so will aid circulation and help the muscles to conform to their new positions. To help alleviate some of this discomfort, pain medication will be prescribed and a muscle relaxer can be used during the first days following surgery.
Patients should allow 2 to 3 weeks for the initial bruising and swelling to subside and expect the residual swelling to gradually dissipate over several months. Avoid lifting, bending, and especially twisting motions for at least 4 weeks. After this time, the body will typically have healed enough that the patient can resume most non-strenuous forms of activity. Because the tissues and abdominal muscles do not reach the needed strength until 6 weeks after surgery, it is strongly recommended that all strenuous exercise be avoided until at least 6 weeks after surgery, though Dr. Behmand will determine when a patient can return to full activity. Limiting activity will help protect the internal muscles and connective tissues from strain while healing in their new positions, and it will not harm the surgical outcome. During the initial consultation, patients should discuss activity preferences so Dr. Behmand will be able to give personalized and realistic recovery advice.
"My very own miracle working surgeon. I thank god every day for your talent and skill…giving me the body I have always dreamed of. I walk in my life with confidence and strength. What I carry inside is now reflecting on the outside. Thank you."
As tummy tuck healing progresses, individuals typically notice a clear difference in how they look and how clothes fit. Many patients find that a tummy tuck improves their self-esteem and makes them feel less self-conscious about their appearance, both in and out of clothes.
Cost:
Surgery fees can vary depending on length of time in surgery, if additional procedures (like liposuction) are recommended at the same time, and type of abdominoplasty performed. Average cost is between $11,000 – $16,000.
Are You Ready to Look and Feel Great?
Schedule a consultation with our office by contacting us online or call us at (925) 939-9200.