About Dr. Ramin Behmand
In his preparation to become a premier cosmetic surgeon serving Walnut Creek and San Francisco, Dr. Ramin Behmand graduated with honors from Case Western Reserve University School of Medicine in Cleveland, Ohio and was elected to the Alpha Omega Alpha (AOA) Medical Honor Society. His postgraduate plastic surgical training was undertaken at the University of Michigan, in Ann Arbor, where he was elected academic chief resident and completed a comprehensive six-year training program in plastic surgery. Subsequently, Dr. Behmand undertook further fellowship training, through which he gained extensive experience in complex cosmetic surgical procedures of the face and body, with special emphasis on various aesthetic procedures of the face. He has a great deal of training in endoscopic and laser procedures, body contouring with liposuction, breast augmentation and breast lift surgery, and facial rejuvenation surgery. Dr. Behmand is certified by the American Board of Plastic Surgery (ABPS) & the American Society of Bariatric Plastic Surgeons (ASBPS) and is an active member of the American Society of Plastic Surgeons (ASPS) as well as the Alpha Omega Alpha Medical Honor Society.
In addition to being a cosmetic surgeon in Walnut Creek near San Francisco, California, Dr. Ramin Behmand is a clinical assistant professor of surgery at the University of California, San Francisco Division of Plastic and Reconstructive Surgery and is involved in surgical education of residents and fellows at UCSF. He also serves as the chair of the Section of Plastic Surgery at John Muir Medical Center in Walnut Creek.
Dr. Behmand is committed to research and clinical advancement of plastic surgery and has authored and coauthored numerous
scientific publications, book chapters, and abstracts, with presentations at local and national plastic surgery meetings. He uses
his surgical training and involvement in education to offer the latest, most effective, and safest plastic and cosmetic surgical
procedures to his patients.
To keep current with the most up-to-date surgical techniques and theories, cosmetic surgeon Ramin Behmand is active in professional
organizations in San Francisco, Walnut Creek, and beyond. Some of these include:
In addition to Dr. Behmand's extensive training and involvement with various organizations, Dr. Behmand has also been honored with a number of recognitions including American Registry's Most Compassionate Doctors Award & American Registry's Patient's Choice Award  from 2008-2013.  This prestigious rating is only awarded to 3 percent of the nation's most beloved doctors. It is awarded based on bedside manner, the amount of time spent with patients, the courtesy of his staff, appropriate follow up care, and overall opinions of Dr. Behmand as a physician.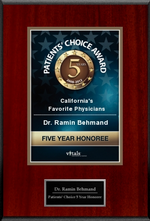 If you would like to experience firsthand the compassionate, knowledgeable care practiced by Dr. Behmand,
contact his Walnut Creek office today to schedule a consultation.